How Can I Become A Christian?
We believe that to have eternal life with Jesus, we must be born again.
I tell you the truth, no one can enter the Kingdom of God unless he is born of water and the Spirit. Flesh gives birth to flesh, but the Spirit gives birth to spirit. You should not be surprised at my saying, 'You must be born again.' John 3: 5-7
This is the process of becoming a Christian, a believer and follower of Christ Jesus.
First, we must realize that we are sinners, separated from Christ because of our sin, and completely lost, with no way to save ourselves.
For all have sinned and fall short of the glory of God. Romans 3:23
Then we must repent of those sins, confessing our lost condition to God, and asking His forgiveness. Only God can forgive our sins, and when He does, He forgets them! He loved us so much, that even though we are sinners, He gave His life for us, through His Son, Jesus Christ. Jesus, who was born of a virgin, He never sinned, and He died for us on the cross. He was in the grave for 3 days and then rose again, in the flesh. In doing this, He won victory over death, so that we too, could be raised from the dead and have eternal life!
The time has come, he said. The Kingdom of God has come near. Repent and believe the good news! Mark 1:15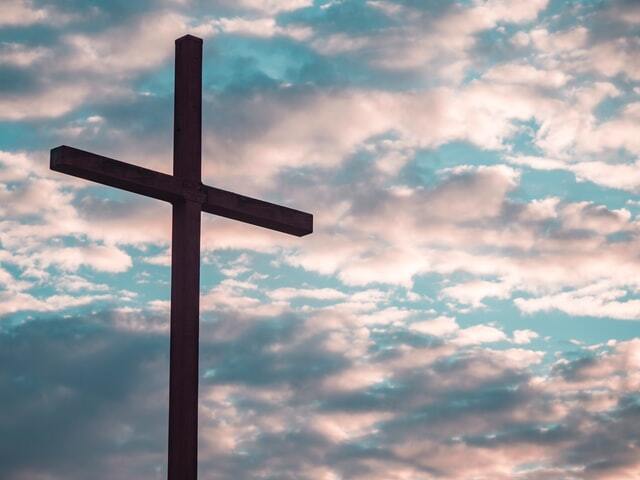 But God demonstrates His own love for us in this; while we were still sinners, Christ died for us. Romans 5:8
We need to truly believe that God is Who He Is, the Almighty Creator of the world, the Father, God most High. Once we become a follower of Jesus, God's Son, the Holy Spirit lives within us, and we will know when we do wrong, and we will feel convicted to confess our sins and turn back to the right path. We cannot do this on our own. We need the constant presence of God, through His Holy Spirit, to help us stay on the 'straight and narrow' path.
Enter through the narrow gate. For wide is the gate and broad is the road that leads to destruction, and many enter through it. But small is the gate and narrow is the road that leads to life, and only a few find it. Matthew 7:13 & 14
Once we become a believer, we will want to live for God, surrendering our own selfish desires to serve Him. As the scripture above states so clearly, the way is narrow. It's a path that can be very hard to travel; sometimes we have to lose some of the things we love or enjoy the most.
And without faith it is impossible to please God, because anyone who comes to Him must believe that He exists and that He rewards those who earnestly seek Him. Hebrews 11:6
We need to surrender our doubt, fears and worries to God. He takes those away too. As we give ourselves to Him, with all our hearts, He takes our struggles and pains and fears and gives us peace that passes all understanding, the peace that only comes from Him.
Cast all your anxieties on Him because He cares for you. 1 Peter 5:7
And the peace of God, which transcends all understanding, will guard your hearts and your minds in Christ Jesus. Finally, brothers, whatever is true, whatever is noble, whatever is right, whatever is pure, whatever is lovely, whatever is admirable--if anything is excellent or praiseworthy--think about such things. Philippians 4:7 & 8
When we turn away from the world and its struggles and we become earnest followers of God, we will soon find that we need other people who are on this same path. We need to be with other believers in Jesus Christ as Saviour and Lord. We long to share our experience, our burdens and our joys with others. This is what the Church is - God's people together. People who are walking this same path with you.
Carry each other's burdens, and in this way you will fulfill the law of Christ. Galatians 6:2
May the God who gives endurance and encouragement give you the same attitude of mind toward each other that Christ Jesus had, so that with one mind and one voice you may glorify the God and Father of our Lord Jesus Christ. Romans 15: 5 & 6
When we become a Christian, a follower of Christ, we will need to keep ourselves in God's Word. That means reading the Bible, the Living Word of God. To know God, we must read His Word, which is alive and active. Without the constant teaching and support of our brothers and sisters in Christ, and the life-giving Word of God, we can not stay strong in the face of temptation and trouble.
For the Word of God is alive and active. Sharper than any double-edged sword, it penetrates even to dividing soul and spirit, joints and marrow; it judges the thoughts and attitudes of the heart. Hebrews 4:12
For everything that was written in the past was written to teach us, so that through the endurance taught in the Scriptures and the encouragement they provide we might have hope. Romans 15:4
If you are ready to become a Christian, to be forgiven of your sins, all you have to do is to ask God to forgive you and to come into your life and be your Saviour and Lord. Here is a simple prayer -
Father God in Heaven, I lift my voice to You. Lord Jesus, I believe You are the Son of God, the perfect Lamb Who takes away the sin of the world. I am asking You to forgive my sins, to take them away, washing me clean with your blood you shed on the cross, just for me. Give me a new heart to love You and serve You all of my days. Fill me with Your Holy Spirit to guide me and comfort me. Help me to hear the voice of God wherever I am and whatever I do. Thank you, God, for all You have done and will do for me. I want to serve You. Accept my life - I give it to You. In the name of Jesus I pray. Amen.
This is a new beginning for you! If you prayed that prayer in earnest, you have been given the gift of salvation! You need to receive it! Like a gift that someone puts on your lap, all wrapped up with a bow, salvation is a gift that needs to be opened and discovered! You are on your way to heaven! God bless you and guide you each day!
If you need a Bible, come to the church and we would love to give you one! See you there!